An internet friend from the Northwest wrote to us:
I'm a law student in need of a suit for upcoming September interviews for next year's summer positions . . . the law is one of the most conservative professions, so I need a conservative suit. . . . Any suggestions as to cut? Colour? Fabric? Pants or skirt? Shoes? I'm a tall size 18 and while well-endowed in the chest and shoulders department, my large hips tend rather to eclipse my upper half. I'm pale, with brown hair. My good body points are my chest, hands, and long legs. Please advise.
Francesca is well-versed in the need for ultra-conservative interview clothing. She once had an interview at a large advertising company in New York — one would think that an advertising firm in New York would welcome a tad more creativity than, say, a law office in Washington DC — and received feedback that Francesca had done a nice job on the interview, but the extremely conservative navy blue dress she was wearing was not conservative enough, because it was a dress and not a suit.
Francesca said: Whatever! I will become a freelance writer and travel the world, always meeting new and fascinating people and writing about interesting things that make for terrific, sparkling conversation at cocktail parties. You can take your advertising job and keep it in your little cubicles while you yearn to move into a corner office! I, meanwhile, the great Francesca, will be paid to blog about fashion from the comfort of cute little bistros!
Ahem, Francesca has gone on a tangent. Our internet friend wishes to become a lawyer, and so we must return to the topic at hand: conservative suits.
First, the law job interview suit must be navy blue or black, and, it goes without saying, made of the finest materials you can afford. Detailing such as narrow pinstripes and buttons should be simple and tasteful. This is not the time to take risks or try to make a bold statement with your fashion choices. The goal is to make a bold statement with your intelligence and professionalism instead. The focus will be on your talents, not on your fashion sense. We do not want to distract your interviewers the way Francesca has become distracted.
Skirt or pants? What do you think Francesca will say? (Hemlines should be at or beyond the knee, not above it, especially as one does not want to show thigh while sitting for an interview! And a just-below-the-knee hem will highlight your pretty calves.)
Since our internet friend is pale, Francesca recommends navy blue (over black) so that contrast between skin and clothing will not be too severe or make our friend look pale under the office lighting.
Pair the suit with an ivory or off-white shell or simple (not frilly) blouse. Silk is always a good choice. I recommend against white in your case because the light reflecting from the blouse may make you look more pale. Remember to wear a bra which matches your skin tone, so it does not show through the blouse!
As for style, indeed it is difficult, as a Big Girl, to find suits which are appropriately conservative without making us look boxy. Francesca has conducted a search and found many example of suits which are either cheaply made (horror!), or box-shaped (yuck), or available in black but not navy. Francesca very much wishes to find a navy suit for her friend. Behold! I have found this perfect example of well-made, conservative suit with attractive but non-distracting details, from our friends at Talbot's!
The jacket (here in Women's):

And the matching skirt:

And here are the links for this suit and skirt in Women's Petite sizes! And in regular sizes through 20!
As for shoes, here are the ultra-ultra-conservative pumps by Vigotti:
If you can get away with some detailing, and would like to save a little money while you live on a student income, you might choose these very pretty and more affordable shoes by Ros Hommerson: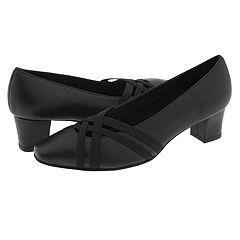 Either way, wear pantyhose which match your skin tone! Navy blue hose are too "matchy" and white will make you look like a nurse instead of a lawyer.
Best of luck on your interviews! Please tell us how it goes!
xoxo, Francesca