In a place where there is no man, strive to be a Man.
— The Talmud
Last week, in my post recommending a handsome sandal to new college students, we received the following comments:
[W]hile the being cool is not as important in college as it was in high school, fitting in still requires some buckling to social pressures, such as the wearing of shower shoes to class.
and
I can't see students who Febreze their clothing in lieu of laundering wearing heels to class . . . . Sorry, come join us in the real world.
These comments made Francesca very sad. Not because of what it says about college women's fashion choices, but because of what their fashion choices say about their attitude to college, and to themselves.
It is not so long ago that studying at a University was a privilege limited to wealthy men. Even when that privilege was extended, through the rise of the middle class, the establishment of public universities, and the concept of scholarships, to the not-as-wealthy, it was still limited to men for a long, long time. It was a hard battle that women fought just to be able to sit in the same classes as men, to gain the same opportunities and the same chances to expand one's horizons and stimulate one's intellect (or at least sit through the required statistics class which will allow one to finish one's major and get the job or graduate school acceptance letter which one covets).
We are extremely lucky to live in an era and a society in which the poorest members can attend college if they work hard enough, and in which women, people of color, immigrants, religious minorities, and others to whom the doors of Academia were previously closed can now spend four precious years learning how to think, preparing for advanced careers, and catering to their curiosity about things like Art History and Sociology. Never have so many academic riches been available to so many.
Here are these bright young women. Not so long ago and not so far away, they would have been sent to work in factories. If they were lucky they would have been training in typing or shorthand and looking for husbands. Or perhaps, if they were wealthy, they would be newly married to the son of a wealthy neighbor, pretending to be interested in how many doilies they own or their troubles in finding good servants (anyone see Titanic?). Before that, at the age of 18 they would have already been married for a couple of years and mothers to one or two children.
Instead, they have the luxury of three or four years – YEARS—to study liberal arts or professional studies. They are engaged in a pursuit which not long ago was considered an outrageous waste of time, unless you were wealthy enough to have that time to waste (and were a white male). Now it is, yes, considered a necessity for a middle-class lifestyle. But it is still a privilege.
And how do we show our respect for the privilege of studying History and Chemistry and Political Science and Math? We wear flip-flops and pajama bottoms to class!
And the sartorial catastrophes are just the tippity tip of the greater one: that on many campuses, college has now become a time not of study and intellectual growth, but of binge drinking and sleeping late and perhaps the multiple partners of the meaningless sex, and the being happy with a C average! This is not superfantastic!
Ladies! You are now certified adults. You can vote. You can drive. You could get married, if you chose to – but for now you are putting that off to enrich your minds in academic pursuits. You are a grown, interesting, intelligent woman who is fascinated by the world. And you have much to contribute to it.
Don't you think you should be wearing real shoes?
Look! You do not even have to spend a lot of money! Francesca knows that for the privilege of studying Environmental Studies or Near Eastern Languages and Cultures, you are living on pasta and doing work-study just to pay for your books.
So Francesca has found several items which you can wear on your adult, respectful, worthy-of-respect feets, which cost under $35 but are attractive and, at least, actual shoes.
Oh-so-casual for the showing up at the cafeteria at 9:30 am for breakfast, then taking your books to the library, and leaving at 2:10 so you can get to Developmental Psychology at 2:25 at a nice pace, cool as a cucumber:

Tonight, after your student government meeting, you have a date! What can you slip on with your jeans to add some festive flair?

And tomorrow, when you go to class, you want something fun and comfortable for standing in Chem lab, something "young" and yet 10,000 steps above the flipflops. Will it be these?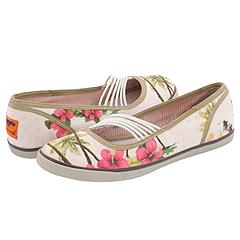 Or these?

And there are more here, here, and here.
Of course you do not have to wear high-heeled sandals to look superfantastic! The idea is to wear the clothes which show respect for yourself, for your classmates, for your professor, for your education, for all the people who are financing your education, and for the society which has decided that you are now a grown-up. Do you wish to be seen as one? Does it matter that "everyone else" is wearing slippers and Febreezed sweatpants around campus? Do you not wish to be the superfantastic individual who wishes to remember, always, that she is a person of dignity and importance and deserves to appear so to the world? In a place where there is no man, do you not wish to strive to be a beautiful Woman?
Francesca believes in you!