Patent leather is having a moment right now and I love it. I will freely admit that my fascination with shiny things is on approximately the same level as an especially simple and possibly transvestite American raccoon, but friends, there is a lot of bad patent leather out there. And by patent leather I mean vinyl, and by vinyl I mean no.
We are Grown Ups. Grown Ups don't wear vinyl shoes. We have jobs and pay rent and and do all sorts of other Grown Up things that involve accountants and dentists and sometimes a pair of those awkward metal stirrups and a whole lot of it sucks but when we come home we can open our closets and –provided we are not actively employed in the hooking arts– sigh saying "at least I don't have to wear vinyl shoes" and go about our lives of quiet desperation knowing that if all else fails, we are still beautifully shod.

From my personal collection, these beautiful Delman "Bruna"Mary Janes.
The surprisingly affordable Italian Lumiani "Venezia" in olive.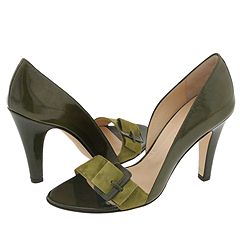 …and my number one covet shoe of the season —in which I am not alone— the heart-stopping Prada "Sfumato Mary Jane" which is so beautiful in person I almost licked it.
mmm…delicious.