Francesca has discovered the delightful designs of J. Renee, and now there is no going back.
Look at all the luscious colors of, and detailing on, these shoes! And they come in wide widths!
Green with a green sunflower!
Pastel metallic print with a unique leather trim! Francesca likes!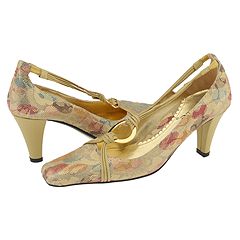 Francesca's favorite! Mint green with exquisite gold ribboning. Ooooooh. Francesca must have these. Must. Have. Them.
Happy shopping and happy weekend!
xoxo, Francesca