A perplexed reader submits:
Dear Francesca,

Thank you so much for your kind Rosh Hashanah wishes. I am an Orthodox Jew, and with Yom Kippur approaching I have no idea what to wear on my feet. For the Day of Atonement, we have a custom not to wear leather shoes (would take too long to explain). Between that restriction and the fact that we spend literally the entire day in synagogue praying, most of the women in my community wear keds or even flip-flops, the best to stand for many hours while also not wearing leather shoes. I think this looks silly, even if there is logic behind it, and wonder whether you could recommend a non-sneaker, non-leather, extremely comfortable shoe for our holiest day of the year. To make it even more challenging, I wear a size 11, and have a custom to wear all white on Yom Kippur . . . Please help!

Thanks again,

Lisa S.
Ayyyy! Indeed, Francesca has now discovered that finding an attractive, non-leather shoe which is appropriate for the holy day is indeed a difficult task. We say often here at the Blogs of the Manolo that superfantastic shoes are made of the finest materials, which do not normally include polyurethane.
Thankfully, Zappos has a handy search function which allows for the searching by color and price, and Francesca has found several shoes which, while not appropriate for a meeting in the White House, are at least more appropriate than keds for the Day of Whiteness.
Here is a skimmer with a fabric, pleated upper: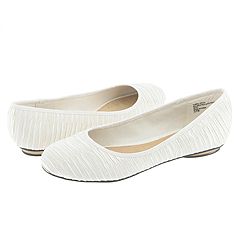 A peep-toe skimmer with polyurethane upper, quite handsome considering the materials and the price: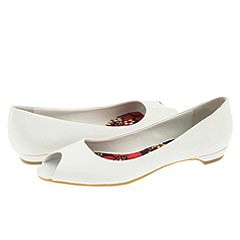 Cute kitten heel with a synthetic upper and ethereal air: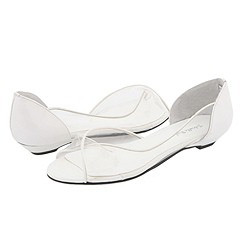 Francesca wishes Lisa a meaningful holiday!
xoxo