Francesca recently bought a lovely, long, feminine, brown skirt, and is seeking conservative shoes to match, something with a sturdy heel. Mmmm . . . brown leather . . . brown suede . . . there is something so autumnal and comforting about brown. It is the color of hot chocolate, and of trees colored by small children using crayola crayons, and of a good cup of coffee. And of brown leather . . . and suede . . . .
Francesca is leaning toward the Vaneli "Rennet":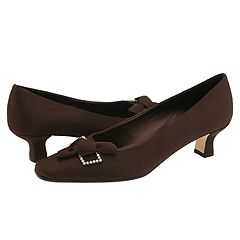 Or perhaps for a more office-appropriate look she will splurge on Stuart Weitzman's "Fairfield," which reminds Francesca of the fall foliage and crisp October mornings in the lovely Connecticut town of the same name.
Both styles come in wide widths! Francesca loves wide widths!
Happy weekend and happy shopping!
xoxo, Francesca
PS Who will be the first to identify the 80's sitcom which took place in Fairfield, Connecticut?