Our internet friend Tanya wrote:
I love your blog, and was hoping you might have some suggestions. I'm short and a bit heavy and have wide feet… I would like to become short and not so heavy with wide feet, and to do so need a pair of gym shoes that will fit and possibly be semi-attractive without being so expensive that I can't bring myself to buy them. Any suggestions?
Once again Francesca states that on this blog we neither encourage nor discourage weight loss. Rather, we encourage good health, and we believe that our readers are intelligent enough to decide for themselves when, if, and how they wish to lose weight.
So, Francesca applauds Tanya's decision to take action toward reaching something she wants, and wishes her good health. Francesca, herself, is not a gym person. When Francesca wishes to exercise, she prefers playing sports, or doing aerobics in the comfort of her own living room, or carrying home Chinese takeout or heavy bags of groceries which contain, among the fruits and veggies, only one box of Entenmann's cupcakes. So you see, to each her own!
The important thing about gym shoes is not whether they are attractive, but whether they will support and cushion your feetsies. However, blinding colors are to be avoided, and detailing should be as non-busy as possible.
Tanya did not say whether she plans to use the gym for weights or for dance / aerobics classes, so Francesca searched for a good general all-purpose fitness shoe, available in wide widths and costing under $100. She suggests that Tanya try the WW744 model by New Balance, which is a sturdy walking shoe and comes in all-white or with light blue trim: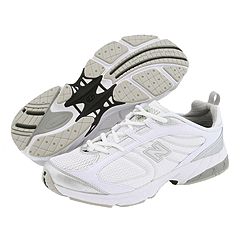 Happy shopping and happy exercising!
xoxo, Francesca