Our internet friend Colleen writes:
I am writing on behalf of my maid of honor, who is too shy to write for herself. The wedding is in five weeks and the dear girl has not found shoes yet! She is a lovely Big Girl with sensitive feet — she usually wears orthopedic insoles, and has difficulty walking in heels higher than an inch and a half. Shoes should be black, closed-toed (no pointy toes, though), come in size 7 regular, and because my pal is a graduate student and coming all the way across the country for my wedding, as inexpensive as possible. The wedding will be in the morning, and she will be wearing a cranberry-red satin. Please help, Francesca!
Francesca was delighted by this letter for several reasons.
First, she is happy to see that the Colleen is not a bridezilla, and is trying as best she can to be sensitive to her friend's wallet.
Second, she is happy to see that Colleen loves and cares for her friend and wishes to help her friend look beautiful, fatness and orthopedics and all.
And third, though the friend is described as a Big Girl, since she wears a regular width shoe this is technically not a Big Girl question. I was going to send it to the Manolo to perhaps answer on his regular shoe blog, when I realized: We have reached our goal! The clothing and shoes highlighted on this blog are so beautiful, that even when someone needs items in regular sizes they come to us for advice! Hallelujah!
In response to questions by Francesca, we learned that it will be a fairly formal indoor morning wedding, and that the cranberry satin dress will be to mid-calf, not the floor. We also learned that the Maid of Honor likes playful shoes but they must be entirely closed, and would prefer to spend under $50 but would be willing to go up to $80 for something superfantastic (which of course is our goal here at Manolo for the Big Girl). The fact that she wears regular widths makes things easier.
Here are several different models to try. Francesca recommends, since the wedding is in a few weeks and Colleen is clearly becoming anxious, that Colleen's friend take advantage of Zappos' generous return policy: Order several shoes, keep what works, and send back the rest. Zappos pays for return shipping! Tip: If an item is "currently not available," try again the next day. Sometimes items come back.
Here we go . . .
Francesca favors the "Dip" by Ros Hommerson , since they have a playful element while still accomodating (one hopes!) the orthopedic inserts, and offering a good, stable heel for the comfort of the Big Girl Bridesmaid who will be on her feets for many hours, helping the Colleen. . . .
And here are three different models to try, all by the superfantastic Fitzwell:
Stacey, available in three shades / fabrics of black! Here, the black suede . . .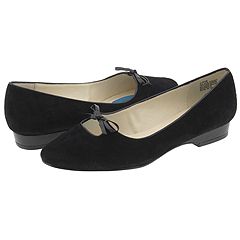 Dawn, made of lambskin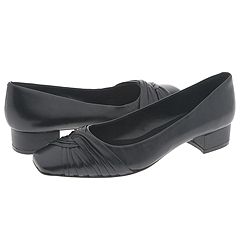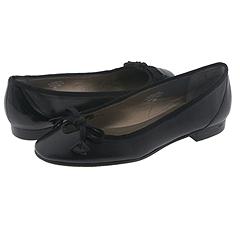 If Colleen's friend truly must watch every penny, she could try the Hush Puppies Gem IV . . .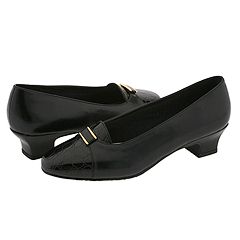 And finally, here is a very adorable black shoe with a kitten heel by Gabriella Rocha, called Ellie, which might suit if the toe is not too pointy:
Congratulations, and let us know which shoe is "the One"!
xoxo, Francesca