Look! It is handsome, unique, wide-width boots with straps that make the calf adjustable! Yes! You can widen or tighten the calf as needed for a perfect fit! Genius, and so attractive.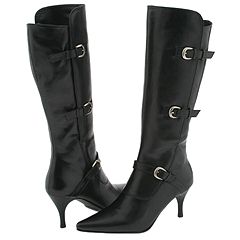 Also available in Bordeaux and Chocolate. Mmmmm . . .
Happy shopping and happy weekend!
xoxo, Francesca
PS Francesca is realizing that just as Plumcake has a closet dedicated to black dresses, Francesca is in need of a shoe closet just for black boots . . . .