Our internet friend Elizabeth writes:
I am going to MC the staff awards dinner at my place of work in a couple of
weeks, and of course I want to look fantabulous. I have, after much
searching, found what I think is the perfect dress for this evening
occasion, the Maggie London Beaded Chiffon Dress in regal from Nordstroms.

I can't figure out the shoes though, time is running out and I'm getting frantic. It will be November, so I'd like to wear stockings. Gold seems like the obvious choice of color, but the gold shoes I've found seem to fall into two categories: sandal (not a fan of the sandal and stocking look) and grandmother of the bride. To further complicate things, there will very likely be a Billy Crystal style song and dance number – so teetery spike heels seem like an invitation to disaster.

Any help you can give me would be a life saver!

P.S. I am a 5'9″ 14/16W chesty big girl with long legs and size 9 medium feet if that is a help to know.
Francesca says: Ah, how jealous I am of Pears, who can wear the gorgeous details across the upper tummy without looking like an Oompa Loompa. And to lack the serious lumpy-squishies on the upper arms! Elizabeth is indeed inshopping heaven! Francesca could never get a way with this dress, but she is happy to help find appropriate shoes.
Indeed it is much easier to find shoes which will exactly (or almost exactly) match the gold trim, rather than to find shoes in the exact same shade of purple, but since we cannot see the exact shade of gold needed (every computer monitor is different), here are two nice options which Elizabeth can try, to see which shoes match both the gold tone and the "look" which Elizabeth wishes to create:
"Rachel" by RSVP: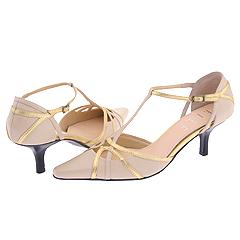 Francesca also wishes to remind Elizabeth that now might be a good time to buy a superfantastic new bra. A chesty MC in a dress which is unforgiving up top must look ultra-confident, ultra-sexy, and ultra-supported. Do not risk a wardrobe malfunction!
Have a wonderful time at the award dinner. Please let us know how it goes.
xoxo, Francesca