Sometimes a little splash of the ridiculous is good. It cleanses the palate. It is the sartorial cucumber sorbet for those of us whose idea of branching out is wear a dress that is only mostly black. Which is why I offer unto you these sublimely goofy Pucci wet weather boots.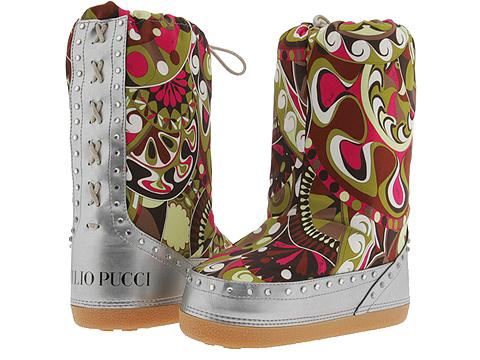 I cannot give you a reason these things even exist (although I have my suspicions involving Buzz Aldrin, an open-minded cobbler and a quiet evening in the Pucci atelier licking toads) much less a reason why you should buy them. And yet…don't they sort of bring a smile to your face?
They remind me so much of something that Lacroix-loving Edina Monsoon from Absolutely Fabulous would wear with, I don't know, a giant Versace belt and a sequined baseball cap. They're so obviously over the top that I can almost, almost see myself wearing them on some gray day when the weather is all sploshy and sloshy and everyone else in the world is wearing their boring wellies.
For the brave few who are interested, they're available in a size 11/12 and are 24% off at Zappos.com.