'Tis the season once again to think of special gifts for those around us. Here at Big Girl, we think these gifts should be superfantastic as can be. Since I have a particular affinity for the kitchen and the wonders that can be produced there, I'm concentrating on special gifts for that venue. Whether it's for Christmas, Hanukkah, a special birthday or anniversary, or simply a case of deciding Tuesday needs celebrating, the cook on your list will appreciate any of these:
1: This Emile Henry 9″ pie pan available at cooking.com at $37.95. I happen to have this very pie pan in this lovely, cheerful citron color in my own kitchen, and it's my go-to pie pan. It goes from oven to freezer to microwave to dishwasher, heats evenly, and looks terrific on a festive table. If you don't like this color, it's also available in: azur, blanc, cerise, figue, pink, and vert.
2: If you love the pie pan, but aren't sure what to bake in it, go no further than Rose Levy Beranbaum's amazing tome The Pie and Pastry Bible. As with Beranbaum's Cake Bible, this is so much more than just a collection of delicious recipes – though it certainly includes that. This gives you the whys, wherefores, and what the hecks that most cookbooks don't explain. If you know someone who loves making pies, head straight over to amazon.com and grab this. At $29.70, with a free shipping offer available, it's a steal.
3: LeCreuset's 5.5 qt. Dutch oven is an excellent investment for any serious cook. $199.95 may sound like a lot, but it's worth it in this case. My mother's LeCreuset casserole outlived her and was the subject of a bitter custody battle which I, alas!, lost. This Dutch oven is perfect for soups, stews, risottos, and casseroles. Equally at home on the stovetop or in the oven, it also looks great on the tabletop.
4: Nigella Lawson's pretty 9″ cake stand available in blue or cream is a great way for the baker in your life to show off those lovely and delicious goodies from the oven. At $24.95 it's also budget-friendly.
5: QVC offers up a pretty Barcelona oven-to-table bakeware set in the Barcelona pattern by Temp-tations for a bargain price of $42.75. Included are a 2.5 quart covered oval dish, a 1 quart covered oval dish, with a wire holder and glass trivet for each dish. The dishes are microwave, dishwasher, freezer, and refrigerator safe; oven safe to 500F. Any table would look more festive with these dishes on it.
6: Vegetarian Cooking for Everyone by Deborah Madison is great for vegetarians and non-vegetarians who appreciate a good vegetable alike. The recipes are delicious and possible in any kitchen, and the book as a whole is full of excellent cooking information. If someone you know wants to know more about what to do with vegetables, this is a great gift.
7: Who says you can't grill in the winter? With the George Foreman Jumbo Indoor Electric Grill, you can throw a bar-b-que in the middle of a snowstorm. It has a 124 square inch cooking surface and comes with a drip tray as well as a special spatula. This is a great gift for the recent grad or grilling enthusiast on your list.
8: If there's a cook on your list who has it all, consider this cast iron aebleskiver pan. At $9.50, it's well worth the price. If you haven't ever had aebleskivers, they're delicious little pancake-like puffs filled with jam. Think breakfast profiteroles. Trust me, there's nothing better for a lazy weekend breakfast than aebleskivers, and at this price, you can probably afford to get a second pan for yourself.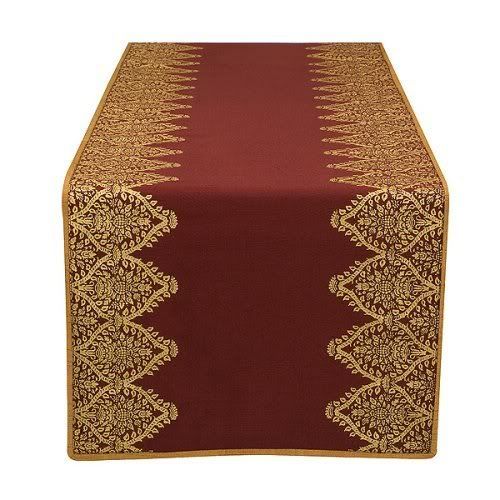 9: Any cook will tell you a good meal is eaten first with the eyes. So it stands to reason a pretty table will help people enjoy that meal. To that end, it's worth it to invest in a few pretty table linens like this elegant red and gold table runner. Not only is it pretty and inexpensive (just $14.99), it's also machine washable.
10: If one is going to cook fine food for people, it's important to get superfantastic advice on how to entertain guests. It's a good thing, then, that the wildly funny Amy Sedaris has written I Like You: Hospitality Under the Influence. Not only does she include recipes, but also excellent tips on holding parties, entertaining guests, and keeping snoops firmly out of your business in future: "A good trick is to fill your medicine cabinet with marbles. Nothing announces a nosey guest better than an avalanche of marbles hitting a porcelain sink" No potential hostess should be without this book.