At the recommendation of a dear internet friend, Francesca recently purchased 2 items from HolyClothing.com, the purveyors of lusciously-designed and crafted plus-size clothing in the spirit of the Renaissance or Bohemian woman.
Indeed the clothing were every bit as gorgeously constructed as the website says. The fabric and detailing were exactly as described and pictured on the site. They also arrived quickly.
Francesca's lone gripe against HolyClothing is that they do not offer petite sizes. This in addition to the fact that their skirts are incredibly long and designed, it appears, to drag on the floor (which Francesca does not allow!) So, when choosing skirts, Francesca did the math and realized that fully one quarter of each item would have to be chopped off. Not knowing whether the skirts were made such that Francesca's seamstress could shorten them from the top, Francesca felt limited to this one style which could be chopped from the bottom without losing all the prettiness: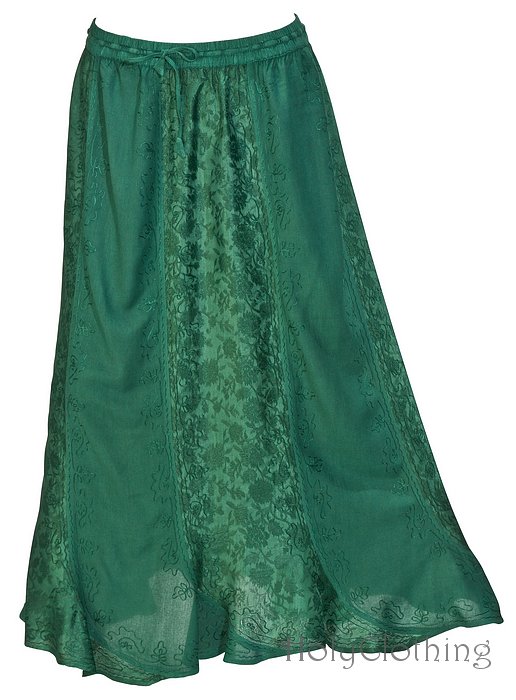 She felt that ordering something like this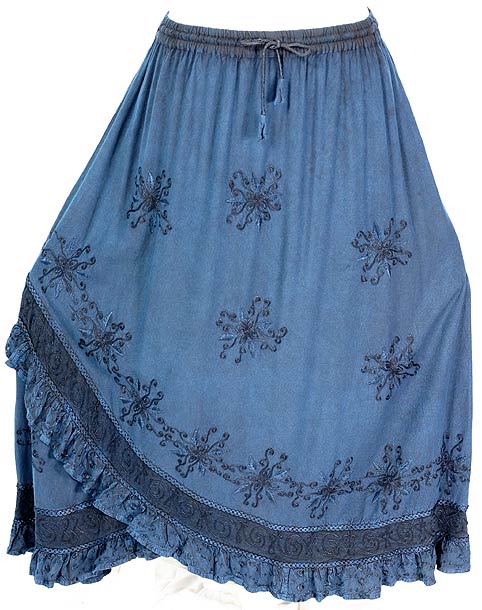 would not be a good idea, since cutting off the bottom would remove most of what makes the skirt special.
It turns out, though, that in fact the skirts can be brought up from the top. So, petite women should feel free to order from this site, provided that you have a good seamstress.
However, this gorgeous blouse, which Francesca adores, must be sent back: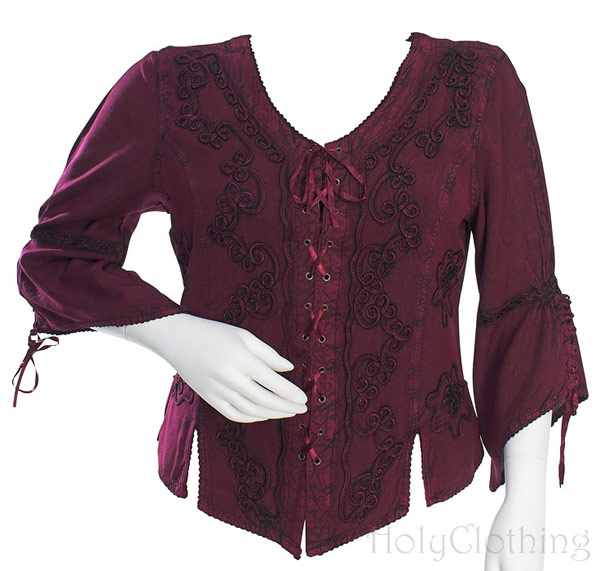 Do you see that it is a lace-up blouse? Do you see the heavenly, romantic sleeves and exquisite embroidery? Do you see how perfect this blouse is for the Apple-shaped woman?
And do you see how, on a woman who is 5-foot-1, the neckline would come to, oh, about mid-chest? How the sleeves cannot be shortened without ruining their look? How it is impossible to shorten the blouse because the corset holes are spaced so that there would no longer be room for a pretty hem?
So, Francesca is keeping the skirt and sending back the blouse. Her advice to other petite ladies is to check out the site, but be circumspect in your purchases.
But if you are a woman of height who enjoys the styles of eras past, this vendor is indeed superfantastic.
And, now through December 15, get free shipping if you fulfill the following requirements at holyclothing.com!
USA Customers: Free Shipping when you spend over $49.99. Select Registered Standard Post 10-12 Workdays w/ Insurance and enter coupon code 6969.
UK & German Customers: Free Shipping when you spend over $59.99. Select Registered Standard Airmail 10-12 Workdays w/ Insurance and enter coupon code 6968.
International Customers: Free Shipping when you purchase 5 garments or more. Select Registered Expedited Airmail 8-9 Workdays w/ Insurance and enter coupon code 7776.
Happy shopping!
Xoxo,
Francesca
 UPDATE IN RESPONSE TO COMMENTS:
Francesca says: heh heh, indeed the second skirt does look like a piece of furniture. The readers are correct.
However, for the Big Girl who enjoys this style, it is not hard to carry off at all. The trick is first to make sure it is altered so that lengthwise it is the perfect fit. And second to pair it with an exceedingly simple blouse (NOT such a one as pictured), so that the top does not compete with the skirt. Add some pretty, dangly earrings to balance the vertical line. And third, one must have the slightly laissez-faire attitude. This is not the skirt to wear to a job interview at Goldman Sachs. It is the skirt to wear on a Sunday while shopping at Quincy Market in Boston.