Our internet friend Mel asks a very detailed question:
I am writing to ask for help with shoe advice. I have super wide smallish feet and have a very hard time finding shoes that fit. Due to a recent medical diagnosis I have to take very good care of my feet and need to become more active. I want to start walking to work and walking around town for exercise but the best walking shoes I have are bright white and do not go with anything. I work in a very casual office so I don't have to wear dress shoes (thank god) but still want to be more stylish than those shoes allow. I could really use some suggestions from you and the readers.

I'd prefer shoes that are cut really wide, have rounded toes and flat with no heel, black and dark grey or bright colors are preferred. I can do mary janes, maybe clogs and if they are in good color actual sneakers. I hope you can help. Any advice on specific styles or brands to check out would be appreciated.

The following are shoes I have and kind of like:

These are my dressy work shoes, unfortunately I think the slight heel
is causing problems. I would really welcome suggestions for something
similar in leather for "dressier" work events.

Thanks for the super fashion advice.
Francesca says: Those Marcelle shoes are darling, and Mel must work in a very fun office environment indeed. And good for Mel for doing what she needs to do to be healthy and fashionable at the same time!
Indeed it is difficult to find shoes which meet all of the Mel's criteria. To reiterate, they must be available in small, very wide sizes; be more stylish than her bright white walking shoes; have no or very low heel; and preferably be black or grey or in a bright color. They must be comfortable enough for doing much walking. She is open to Mary Janes or walking shoes in a color that will not embarrass her from a fashion perspective.
Francesca would warn Mel to stay away from the clogs, since support for the foot is extremely important if you walk around town. It is important, especially since your feet need especial care, that the heels of your shoes be firmly attached to your feets. Shoes that can slip off will cause Mel many un-superfantastic problems in the long term.
Second, Francesca says: If you are walking for your health, the support and comfort of your shoe is more important than how it looks. Yes, even Francesca says so! It is one thing if Mel has a 15-minute stroll to work. But if the walk is 45 minutes and basically constitutes a low-impact workout, please, for yourself and for Francesca, wear good sneakers, in whatever color you find them!
That having been said, if we are talking about short walks that do not necessarily require sneakers, but the flat comfortable shoe for strolls to the grocery store and such, Francesca would recommend the Gabi-R by Magdesians, a low-heel flat with a cushioned insole, which runs very wide and comes in shades of tan, white, and black: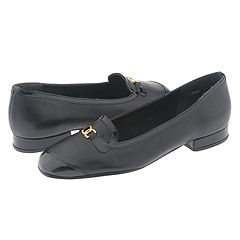 And since the Dansko shoes are working for you, mostly, Francesca can recommend you try their Diana model, which is ever slightly dressier than Marcelle and has a leather upper:
Good luck to Mel, and happy shopping!
xoxo,
Francesca