These feminine but versatile stiletto pumps by Stuart Weitzman are called "Kiss" and are on sale at 60% off at Bluefly, the savings of $135 American dollars! Bluefly has them in black satin and white satin. They are also available at Zappos, in the leather colors below, at almost 20% off!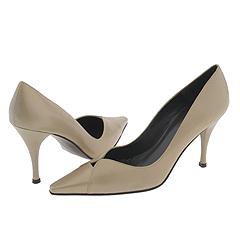 Francesca thinks that the black ones, especially in leather, can work equally well at work or for an evening date. Just take flirty, jeweled clip-on earrings to add to them on the way out of the office, and you are ready to dance the night away. The other colors are nice for the spring – get them now while the price is lower. And of course the white satin stilettos are perfect for the stiletto sort of bride!
Happy shopping! and Happy weekend!
xoxo,
Francesca