Francesca is back!
Oh, kissie kissie, it is so good to be here! Kissies on both cheeks! xoxo!
Where has Francesca been, you ask?
Francesca has been sick.
Francesca was so sick, my friends, that she did not even have the energy to crawl to her shoe closet in order to admire and caress her new Vaneli boots.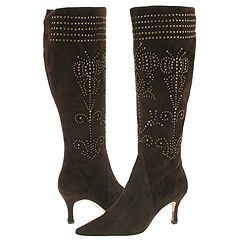 Can you imagine?
And all this time, Francesca has been thinking of her dear readers. In the depth of her feverish haze, she cried out repeatedly "I did not mean that one should say it out loud!" Because, you see, in my last post, oh so many days ago, when I suggested that the "question," when a friend loses weight, should be
"did you lose the weight in a healthy way? Are you actually healthier now than you were before? If so, congratulations! If not, is worrying about your (subjective) beauty more important than worrying about your mental, emotional, and physical health? How can I support you in what you really need?"
Francesca did not mean that you should necessarily say these thing aloud! No, no, she meant that this would be the best attitude to take, and she wishes that our society in general took this approach. As to what to actually say to a good friend or a mere acquaintance who has lost weight . . . well, perhaps we can open that up for a discussion in a future post!
And the second thing I wish to say, in response to Plumcake's last post, is that it is no secret that Francesca is a fan of the fantasy literature, and of the Rennaissance Faire clothing, and of the flowy, wispy, feminine clothing in general. But as many readers stated, there is good wispy clothing and bad wispy clothing; flowy clothing that shows off one's style and coloring and shape to advantage, and flowy clothing that only serves to make one look like a cow; there are times to wear the Renaissance clothes and times to wear the Renaissance-inspired clothes and times to wear neither. And in general, a good rule of thumb is to aspire to look like the Renaissance Lady of Good Breeding, and not the Renaissance Lady of Ill Repute.
Francesca has noticed that a disproportionate percentage of the sci-fi/fantasy female fandom world is made up of our Big Sisters, and wonders why that is . . . it is an interesting social question. But do not mock the clothing out of hand! You would never believe how many compliments Francesca receives on her LOTR cape, which was only $12.99 on sale at Size Appeal but is coveted by most of her skinny, non-fanfic friends. Random people on the street stop to tell her how much they love her cape.
But she would not wear it to a red-carpet event.