While Plumcake and I have disagreed one more than one ocassion, when it comes to flip flops we are of one mind. Just, no. Practical, aesthetc, and auditory reasons abound for our mutual aversion. I know that some of our readers will not change their flip flop loving ways, and hey! it's a free country. Chances are it's a free country where you are, too. We're not your mommies or the Fashion Police. We will not come and try to take your flip flops from your feet, cold and dead or otherwise.
What I would like to do today, though, is offer up some more superfantastic alternatives. After all, warmer weather demands more open footwear. Nobody expects you to wear snowboots in August (unless you're in a part of the world where it would be the most practical thing to do; say a nice long stay in Antarctica), but there are plenty of pretty sandals that aren't flip flops. Let's take a look at some of them, shall we?

These Gretel sandals from Fitzwell give your feet room to breathe while supporting your arches and looking cute.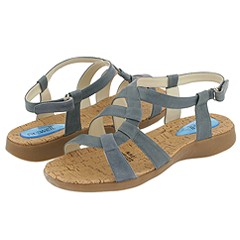 They have an adjustable ankle strap, gel insoles in the heels, and non-slip rubber soles. They come in sizes from 6 to 12 and in M, W, and WW widths. They're even affordable at $69.00 a pair. Oh, and if you don't like the distressed denim color shown, they come in three other colors, as well.
The Cannes sandal by Ugg (of all people!) covers barely more than a flip flop, but also offers more support and a surpising amount of style.

They may set you back $114.00, but that's about ten times the price of a pair of rubber flip flops, and they'll last at least ten times as long. Available in sizes from 5 to 12, M width.
But Twistie! I hear some of you say, the point of the flip flop is that you can simply slide it on your foot and go! These sandals you suggest require tying or buckling at the ankle! True, but there are still some nice slides that will give your feet the support they crave with the air circulation you desire.
Witness the Delight slide by Annie.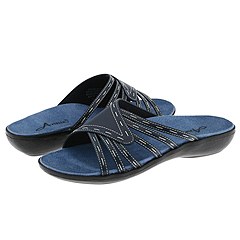 No buckles, no ties, no buttons, no velcro. Just put your feet in them and go. And those feet can be anything from a size 6M to a size 13WW. Constructed of faux leather with a faux suede lining and rubber soles, they are vegan-friendly, too. And at just $50.00, they won't break a budget. If you don't like the Navy color, they are also available in black and tan, as well. As easy as they are to put on, they won't make slapping noises, they will give your feet support, and they will look just fine at the grocery store, on the beach, or at a casual lunch. They could even pass muster at a very casual outdoor wedding.
Flat sandals are wonderful things. I wear them all the time, being a California native and a fairly casual woman at heart. It's just there are sandals and there are sandals…and then there are flip flops which will never have a place in Twistie World.