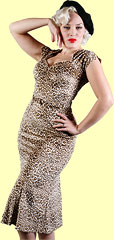 Our internet friend "m" has pointed us to a wonderful site which sells 50's-style dresses.
You know, the 1950's, when the ideal woman looked like a woman, not like a "waif."
All of their dresses go up to X-large, and many many go up to 3x!
Happy shopping!
UPDATE:
Pah! And pah again!
A 37″ waist constitutes a 3X?
Francesca says: Bait and switch!
Pah!
We will not speak of this site again.
Francesca apologizes for her oversight and agrees, the sizing here is ridiculous!
Pah!