Oh, dear, dear Plumcake.
She once said, of some Stuart Weitzman pumps I had recommended, that they would make the wearer look like a Russian prostitute.
On second thought, I secretly wondered whether she might be correct. But I did not say so because she may have gone out to celebrate my surrender with a toast, and we all know what happens when Plumcake has a "nip."
But there! She has the stylish taste and the amusing sarcasm, so we love her and make sure to surreptitiously take away her car keys.
But! But! Back to the subject at hand: The beautiful clothes and shoes. Francesca must say: The only people, in Francesca's opinion, who should wear "ballet" shoes are the ballet dancers. This is Francesca's two cents; you can take it or leave it, of course.
When shopping for flats, Francesca enjoys perusing the wares of  Taryn Rose.
We have hear the very nice "Vivi" sandals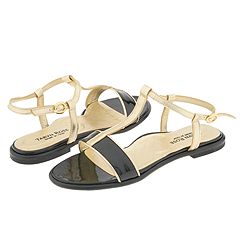 and the sweet saddle-inspired "Burda"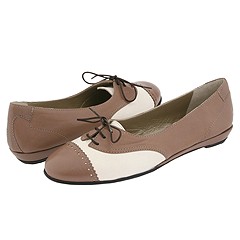 It is true that these shoes are beyond the budget of many of our readers. Plumcake and Francesca are of the same mind that it is best to save one's money and buy the best-quality shoe that one can possibly afford, and then to take excellent care of the shoes and get many years of use from them. Still, $400 or $200 or $130 may be but a wistful dream for many, many of the wonderful women who come here every day. And that is alright.
You are superfantastic whether you can afford expensive shoes or not.
Francesca (and Plumcake, too, deep in her wooden heart) hope that what our readers take from our little blog experience is a smile, and fashion confidence,  and the few moments taken from one's day to look at beautiful things. We know that you are doing the very best you can, with the budget you have, to make your outside look every bit as beautiful as your inside. And that is what makes you superfantastic!