Francesca promised to bring you more work-appropriate, sleeved cotton shirts, and since she is not like the man who says "I will call you," she is actually fulfilling her promise.
Look, a cotton blouse with princess seams, available in four colors (the other three of which can take you from summer to fall):
Jones New York floral wrap top, available in sizes 14-24W. It is made of cotton but word to the wise: it is dry-clean only: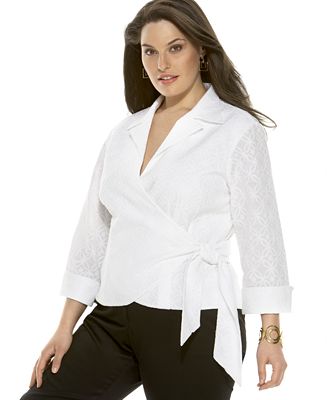 Tie-dye tee shirt can work in "business casual" environments with sleek pants and tasteful jewelry:
This attractive cotton "cardigan" has a square neckline and fly-away hem which is so attractive on many plus-size girls.  It may even work on some of the Apple girls!
Oh, and by the way, here is a pretty skirt from Talbots, terrific for work, made of cotton! (Francesca is only guessing that the lining, too, is made of cotton, but if not, one can cut out the lining and wear a cotton slip instead).
Happy shopping!
xoxo, Francesca