Francesca is so happy. She has finally finished a project at her "day job" over which she has slaved night and day for almost a month. It is now off her desk and someone else's responsibility! At last! And just in time for the weekend!
Francesca plans to use her new-found free time to sit in her extremely comfortable pajamas from Lane Bryant and work on her family tree. Francesca became interested in geneology about two years ago, but began researching her ancestral history in earnest only recently. She is using a program called Legacy Family Tree to collect and organize all the information, documents, and photos, and so far is finding the program quite easy and user-friendly. It also makes nifty charts, though not the exact type of chart that Francesca would prefer, but OK.  Geneology is Fun for Francesca!
Also, to celebrate the finished project, Francesca must, of course, treat herself to new shoes. What else would she do?!?
She is trying to decide between two shoes by Vigotti, the "Kady"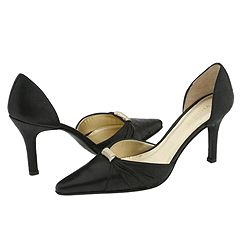 or the  "Vasant"
What say you, dear readers?