Lots of sales and announcements today. Since many of them end today, Francesca will put them all in one posting here, early in the morning, so you will have some time to take advantage:
ENDING TODAY: If you have a Bloomingdales charge card, use it today at their online store to buy $250 or more of merchandise, and you will receive a $50 gift card (which you must use by December 24). Francesca realizes that there are many restrictions on this offer, but she loves Bloomingdales! (And no, Bloomingdales is not one of our partners!)
Also at Bloomingdales, whether you use their charge card or not, get free shipping on orders of $100 or more through December 19 by entering code SHIPXMAS at checkout. Their plus-size section is here.
Francesca's pick is a tafetta ruffle blouse, available in 4 colors in sizes 14 and 18:
(Do you like Tony Bennett? Watch him perform at Bloomingdales here.)
**
ENDS TODAY: Free shipping at Saks Fifth Avenue with code SFAGIFT. See their selection of clothing in sizes 14-24 here. Francesca's pick is another tafetta blouse, this one available in sapphire (shown) or teal green in sizes 1x, 2x, and 3x:
Also at Saks, while supplies last: Buy $300 or more of La Mer beauty products, enter code LAMER22, and you'll receive a gift bag with 4 La Mer samples: Creme de la Mer (0.24oz.), The Lifting Face Serum (0.17oz.), The Refining Facial (0.17oz.). and The Cleansing Foam (0.5oz.).
(Note to the poor girls: Francesca herself uses Noxema, L'Oreal and Maybelline and she maintains both a near-flawless complexion and a warm, subtle makeup look. She prefers to spend her monies on the clothing and the shoes. But she certainly understands the luxury and indulgence of the wonderful department-store-counter makeups! And, for the La Mer fan in your life, here is a luxurious gift set.)
Finally, for the gift shopping at Saks Fifth Avenue: make any purchase at Saks and you will get a free gift box with satin ribbon bow. To receive a complimentary gift box and bow during checkout, select "Yes, this order contains at least one gift," and on the next page, choose Gift box with red ribbon (complimentary). This is not available to Canadian customers.
Here, it is the sale on the beautiful jewelry and accessories!
**
ENDING TODAY: Get 30% off your entire order at Roaman's (sizes 12W-44W) with promotion code RD17072.
Francesca's pick, a silk beaded blouse available in three colors:
**
New Sale at YOOX! We love their shoes. See all sales items here.
Francesca's pick: Leather ankle boots by Celine (sorry for the blurry picture; the larger one would not load. They are gorgeous boots):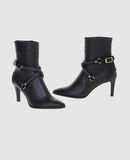 **
Are you a Twilight fan? A reminder from Francesca that Torrid is selling Twilight (styles 1
, 2
, 3
), "Team Edward" (styles 1
, 2
) and "Team Jacob
" t-shirts. The price was just lowered to $18.
**
Enter code alight543 at checkout, and get $5 off any Alight sale item of $15 or more. Alight carries sizes 14-30, with lots of great styles for the younger girl!
Now you can get that little shrug you know you've been needing, for just $17 (in 4 colors):
Happy shopping!
xoxo