Sydney's Closet is offering these 9 wedding, cocktail, and evening dresses for $99 each, through September 18 – but quantities are limited! The (prom?) dresses pictured are available (as of this writing) through size 30! Francesca loves the red and fuschia.
Liz Claiborne will take 25% off these plus-size Isaac Mizrahi plaids and prints
, AND give you $5 shipping, AND give you free shipping if you order $150 or more from  their site (all plus-sizes are here
). Francesca does not know when this offer ends.
Ann Taylor is having a sale. Many pretty items are available in size 18; do a keyword search for XXL to find them.  Francesca does not know how long the sale is going on.
Jessica London will take 25% off your highest-priced item and 30% off your next-highest-priced item, if you buy 3 or more items
and enter code JLE2973 before the end of the day Tuesday. You can use this, if you want, to buy their dress that was recently featured in People magazine as being great for women with curves. (Francesca agrees it is a nice dress. Also here is a pretty white blouse
, and a good jacket. Or go Jackie O
.)
Land's End has earned Francesca's ire by naming an ugly shoe after her friends.
Peggy Lutz (off-the-rack and couture designer) has renovated her website.
Chadwick's is offering $6.99 flat-rate shipping (no code needed), and, through Monday, will take $25 off purchases of $75 or more with code CH25OFF75. Plus sizes are here.
Chico's has taken 30% off these wrinkle-free "travelers'" items, through Monday.
Soma Intimates will take 30% off your purchase of $50 or more, through Monday, with code 7355.
Zaftique is having a sale on selected items (6 web pages) through September 22 or when they run out of these styles, whichever comes first. Francesca's pick (pictured) is 50% off.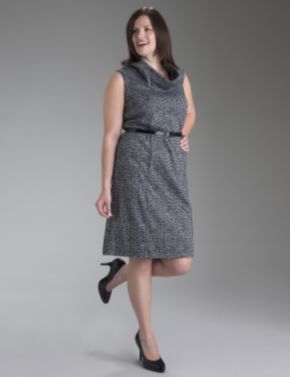 Bluefly has introduced their Fall '09 Handbags
and Shoes
.
Alight has new arrivals for the younger plus-size shopper. This one is rather nifty.
La Grande Dame is making Steve Fabrikant knitwear (for the office) available online for the first time.
Lane Bryant has new dresses
, many of which are office-appropriate (see example pictured
).
Last but not least…
MonifC is making a wonderfully personal and unique offer in honor of the 4th anniversary of her company: The designer will personally make a telephone call to anyone who makes an online purchase, no matter how much they spend, between now and Tuesday, so that her customers can ask her anything they want about designing, fashion, modeling, self-confidence, starting one's own business, etc. She writes: "I don't consider myself an expert on anything particular, just a blessed person, but anything I know, I'll be willing to share." Congratulations, Monif, on 4 great years.