CJ BANKS is having a weekend sale (online and in store), through Sunday: an additional 50% off clearance, and 50% off sweaters. The split turtleneck sweater looks cozy. The square neck eyelet tee which Francesca has previously highlighted (pictured) is now marked down from $40 to just $10.
TORRID has taken an additional 50% off clearance items
, (online and in-store), "for a limited time." There are some wonderful deals there for the younger girl of fabulosity, and in perusing the selections, Francesca found that even the women in their 30's  and 40's can find select items that are on the more muted side, appropriate for the office.
EILEEN FISHER will take an additional 25% off sale items through Monday, online and in-store.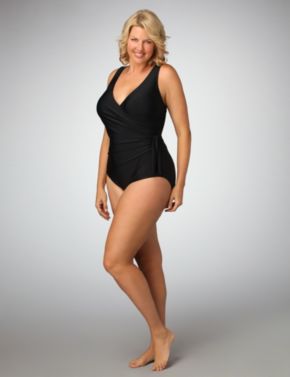 CATHERINES has several sales going on: 1) today and tomorrow, get $15 off any purchase of $75 or more with code 777003260. 2) Through January 16, get 25% off spring new arrivals. Francesca is feeling "eh" about it, but likes this pretty side-wrap bathing suit (pictured) and the draped-front knit dress for work or evenings. 3) 40% off denim, through Monday.
COLDWATER CREEK has begun their bi-annual Red Tag Clearance.
FASHION BUG has items in the following categories on sale, online only, through Monday: tops for $8 or less; bottoms for $10; sleepwear (terry-cloth robe in 1x and 2x here); dresses (Francesca found a bridal gown in 16W for under $55). Also, intimates are on sale, online and in-store.
SPIEGEL introduces their new "Leather and Leopard" collection, some of which is 50% off right now. Not all items come in plus sizes, but the Misses sizes go up to 18.
Happy shopping and happy weekend! xoxo